Let's just say The Grinch stole Cristmas …
After a huge spike for the announcement of his campaign, Charlie Crist has taken a seat in the back of the Twitter bus along with Senator Bill Nelson and fellow democratic hopeful Nan Rich.  Meanwhile, up front, Rick Scott is clearly driving the bus…
A look at a detailed analysis of Charlie Crist's recent Twitter activity shows us a couple of key things:
He's not tweeting every day (see the daily stats tab) or with any decent regularity
Most of the mentions of Crist are not in response to his Twitter activity, but spontaneous comments from others
Compare this to Rick Scott's Twitter statistics, and you can see the difference a consistent and constant use of social media makes — much more of the Twitter conversation about Rick Scott is driven by Scott's social media team.  About 12% of the mentions of Charlie Crist on Twitter are driven by Crist, while almost 40% of the discussion of Scott is driven by his tweets.  Charlie Crist should be able to swamp the discussion on Twitter right now, given that the news about him is generated by him. 
The difference a little effort makes is between being adrift in social media and controlling or at least shaping the conversation.  Even Senator Nan Rich is able to drive 33% of the conversation about herself on Twitter.
Crist's half-hearted use of Twitter even extends to his home page, which looks like he hired a 13-year old to do a knock-off of Nan Rich's Twitter home page:
Compare that to Rich's:
Rich's looks more professional all the way around.  And I can't help but noticing that in the photos block, Crist's photos are basically all just of him, while Rich's are of her and other people.  Charlie's managing to turn Twitter into an anti-social media, I'm afraid.
For the sake of completeness. I'll note that Rick Scott's page is a bit stark in its design: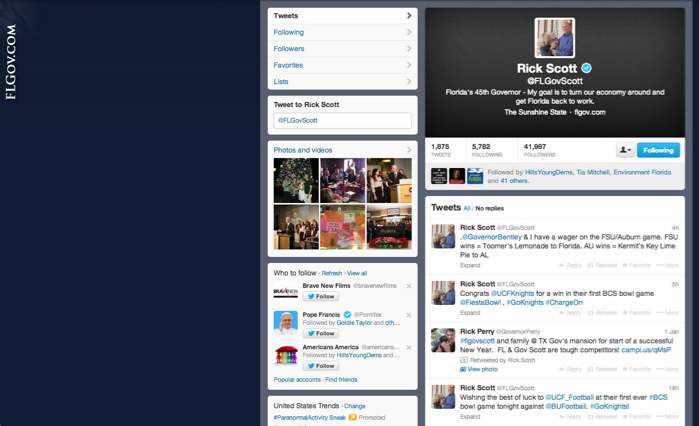 But at least his photos aren't all of himself.
What's disturbing about Crist and Twitter aren't the numbers or style themselves, per se. They can all be fixed long before the elections.  Rather, it's the lack of effort that the Crist campaign is putting into social media. Given the cost of a bare-bones social media effort is so small, the lack of investment here, where the ROI is so high, makes me wonder about whether the campaign is getting the big things right, too.