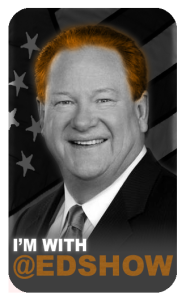 Yesterday, MSNBC announced that they were moving Ed Schultz's The Ed Show back from its weekend exile to the 5pm weekday slot.  The announcement took a lot of people by surprise, although the motivation for it has been known for a long time: the show that took Ed's old 8pm M-F slot has been struggling in the ratings. MSNBC had made a classic media move — replacing an older anchor with a fresh face — but this time it didn't work out as planned.
Fortunately for Ed, his fans moved with him to his weekend slots.  Almost immediately he was more popular on Twitter than the other MSNBC weekend shows.  That fan base is who's carrying Ed back to primetime.
To see how large Ed's fan base is, you have only to compare his current Twitter engagement (which, according to Nielsen, is a good proxy for ratings) with the engagement of some other MSNBC hosts:
This chart shows the average number of tweets each show receives for each original broadcast hour over the past two weeks (through Sunday, so the announcement did not play into the statistics).  Ed is not just getting a tad better engagement, he's killing it.  And crushing the rest of MSNBC's shows in the process.   Ed may be viewed as from the old guard, but when it comes to Social Media Ed and his team are the hottest thing around.  
I hope Ed had a relaxing summer, and that he and his staff didn't suffer too much from this temporary insanity at MSNBC.  Because now it's time for them to get back to work!