I was listening to Romney's June 14th speech in Ohio, and noticed he was rattling off a variety of reasons he thought Obama had failed to improve the economy.  Some were very general, but some were very specific.  About these claims, he said "go check on that".  So I did, and I made a short video that looked at several of his claims and compared them to actual state of the economy:
You need Flash player 8+ and JavaScript enabled to view this video.
I was motivated to do this because it dawned on me that Romney wasn't just stretching the truth as all politicians do, he was stating actual falsehoods.  One example: Romney said recent college graduates had a 50% unemployment rate, which is not even close to being true.
So let's look at the facts I covered in the video:
"[Obama] hasn't delivered a recovery for the economy"
When you use the words "recovery" and "economy" together, there is a very precise meaning for that.  It is basically when the economy starts growing again at the end of a recession.  The recovery started the summer of 2009:
"If you want to see the results of [Obama's] policies, look around Ohio, look around the Country…"
No doubt, things aren't great.  But to blame Obama is to imply that he's made it worse or at best not made a difference.  Here's what's happening in Ohio: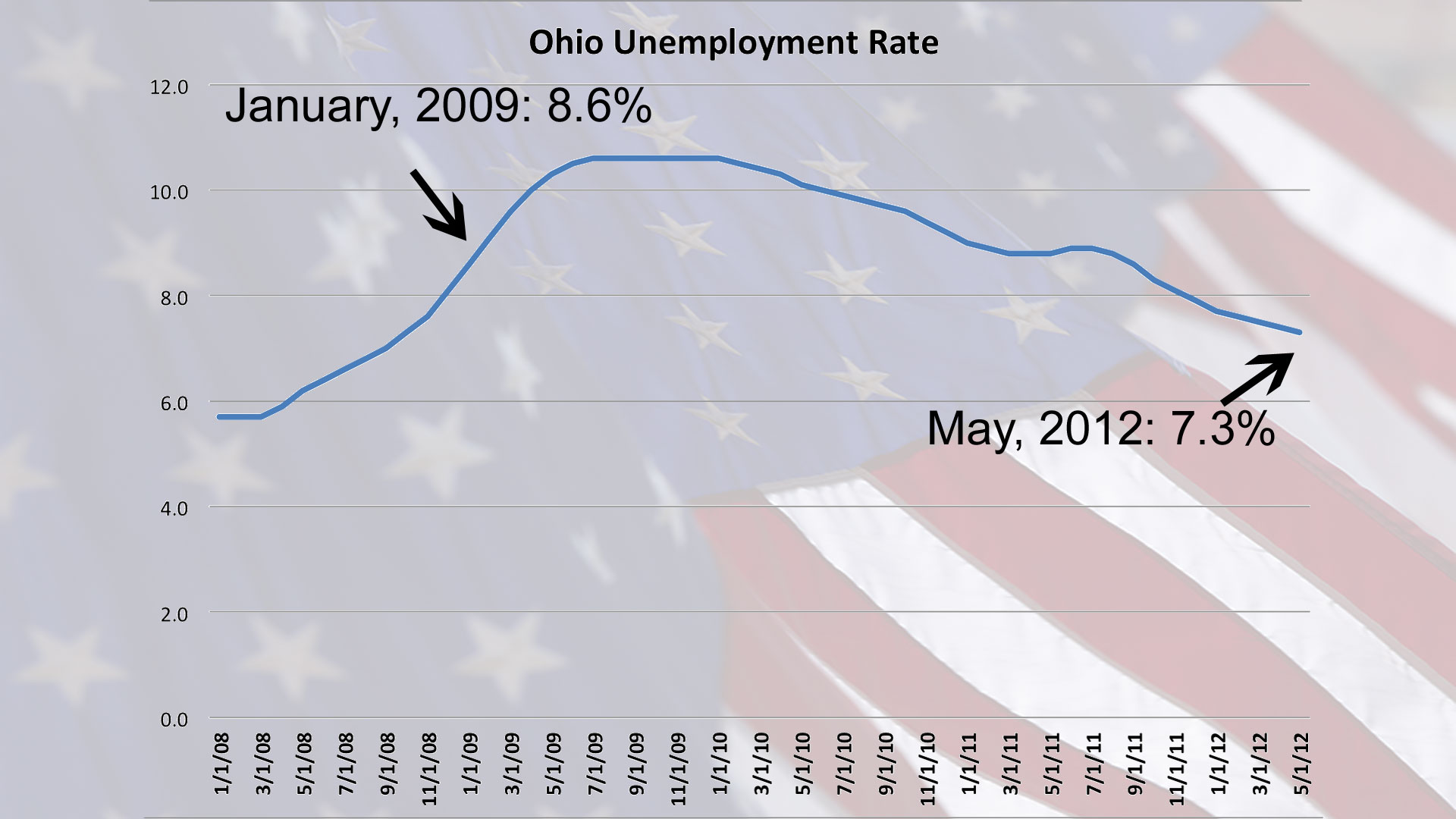 And here's how wages in Ohio have progressed: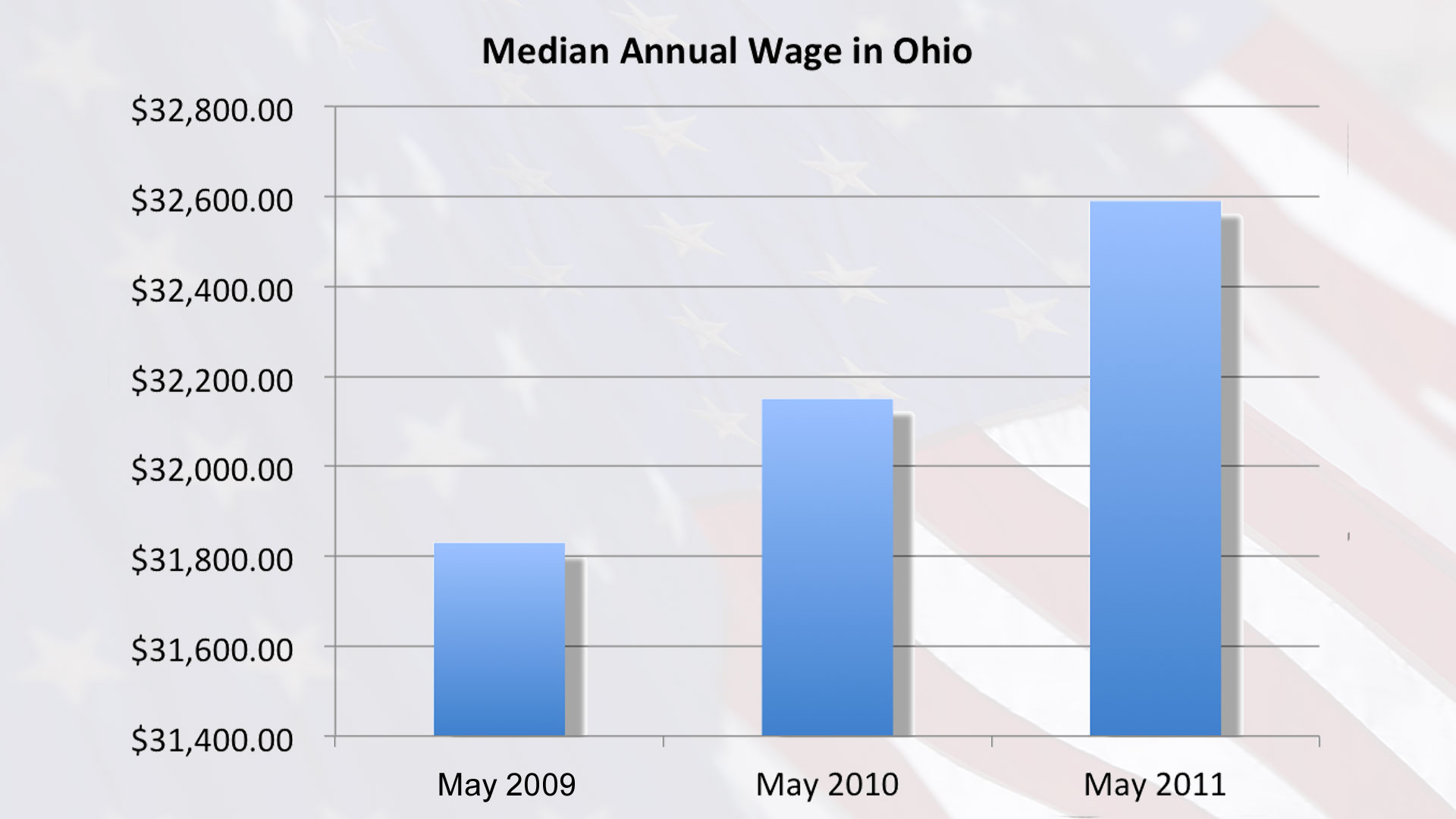 Yes, not perfect.  But Romney wasn't saying he could squeeze another couple of points out of the unemployment rate.
"The policies the President put in place did not make America create more jobs"
Jobs are being created at a much faster rate than they were in the Bush administration, who ended with a paltry 20,000 jobs per month average: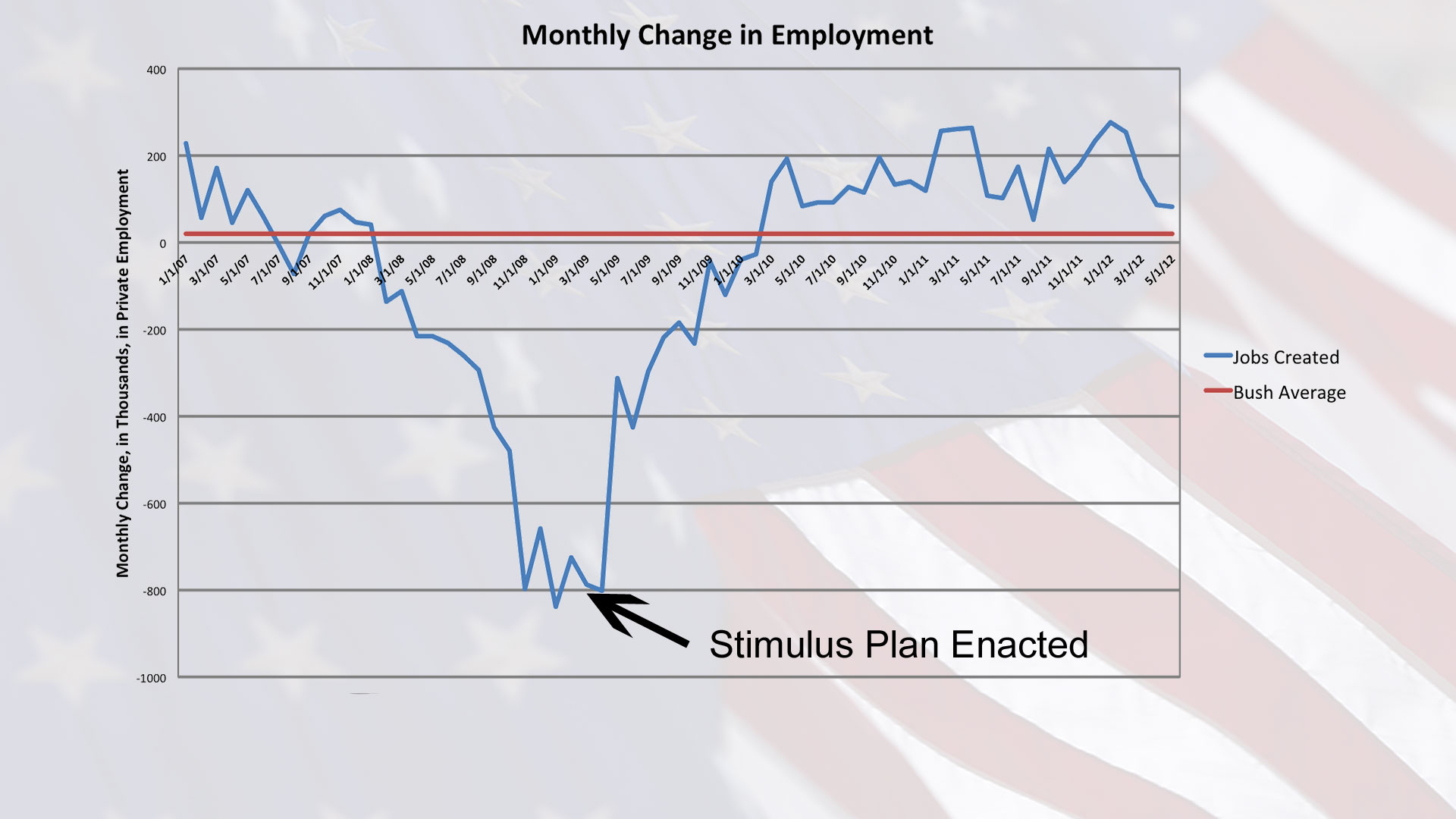 He quotes the President as saying "If I can't turn the economy around in three years, I'll be looking at a one term proposition"
I already covered this above, but here's another chart for you: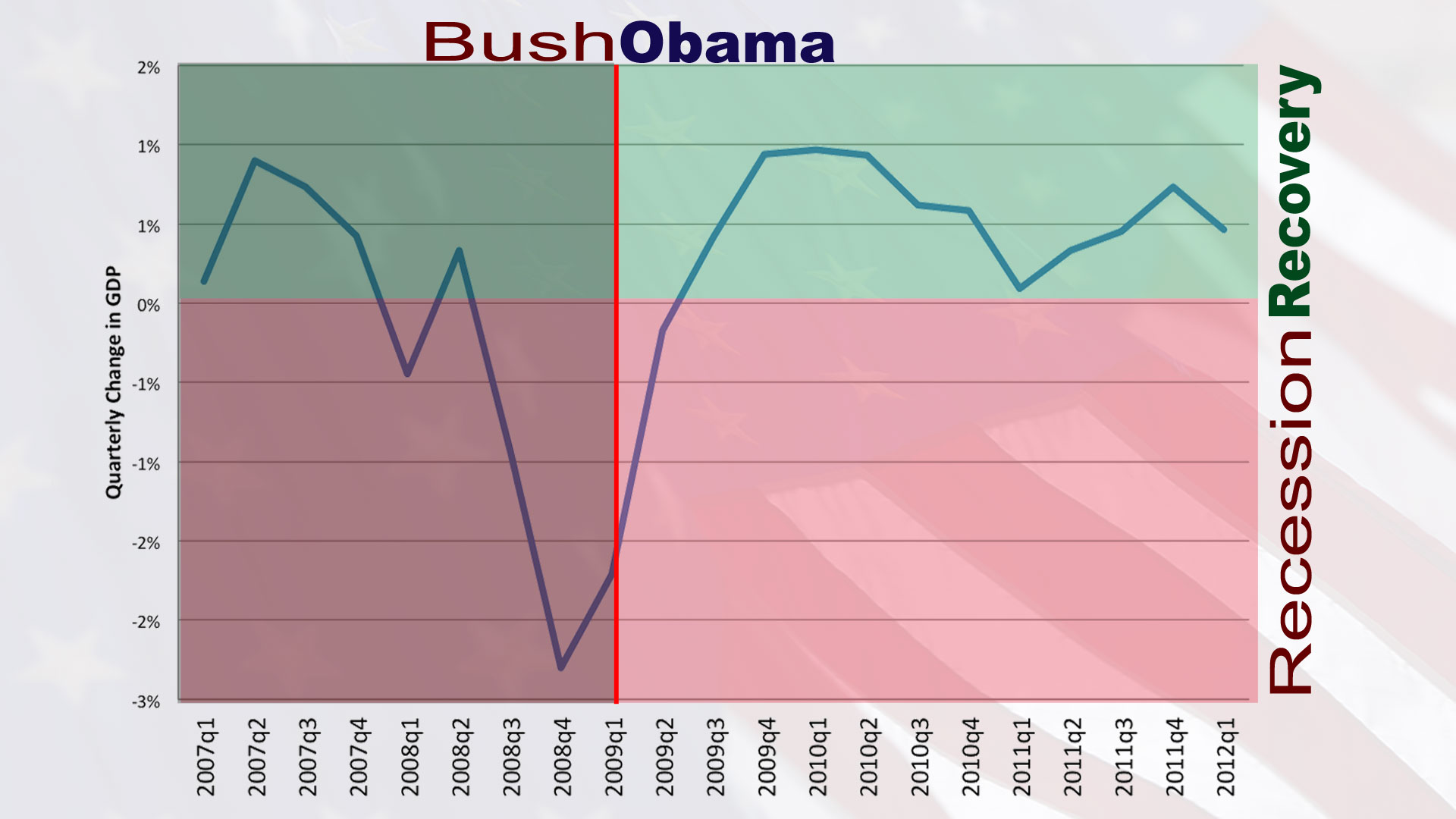 The economy turned around (that is went from recession to recovery) about 6 months after Obama took office.
"They can talk to their neighbor, and ask whether things are better"
The only way I feel better about the economy is if I am making more money.  Turns out workers in this country have been making more money: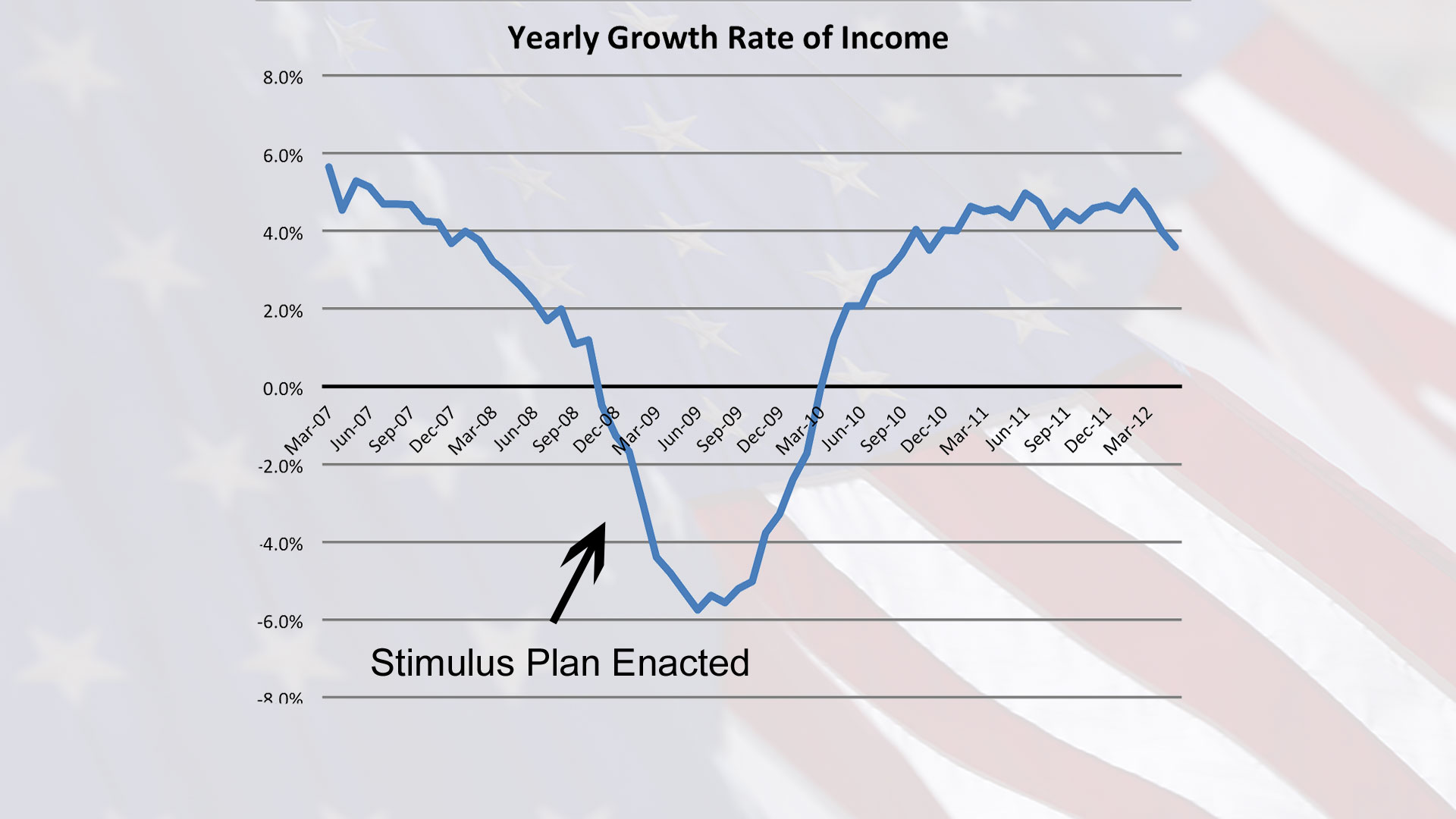 "They can talk to the 50% of college students who graduated from college this year and can't find a job"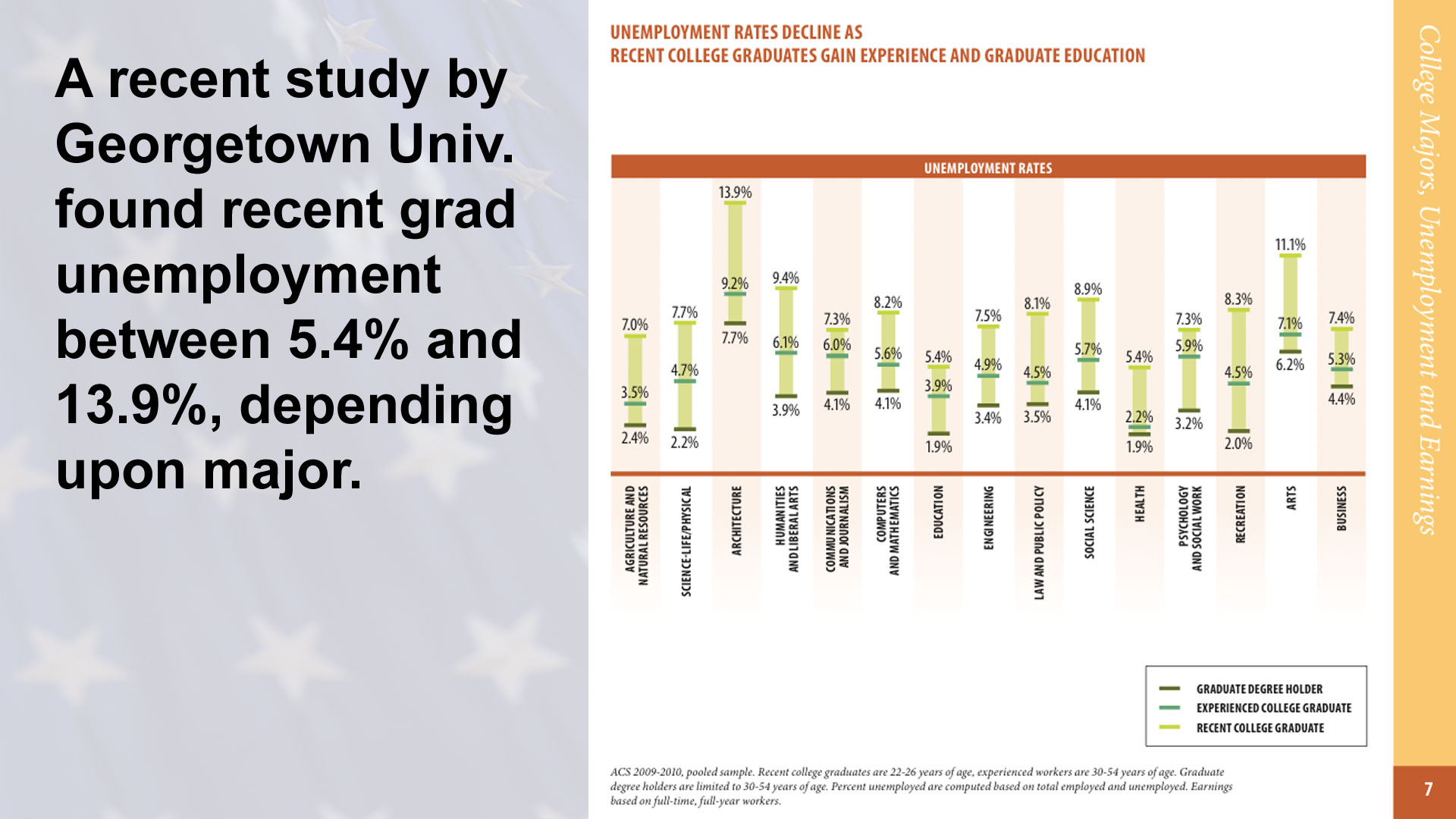 50% unemployment?? From epi.org:
For young college graduates, the unemployment rate was 10.4 percent in 2010 and 9.4 percent over the last year, while the underemployment rate was 19.8 percent in 2010 and 19.1 percent over the last year.
50% is a lie unless you're going to weasel word it to narrowly define people who've been out of college for just a couple of weeks now.
Sure, you can be more precise in your definitions for any of these things and come up with valid criticisms of the President.  But it doesn't sound as good as the simple, absolute statements Romney is making.  But when he makes those, he insults our intelligence by thinking we can't think for ourselves.
I hear that Romney has a brilliant analytical mind.  That he is a master of fine detail.  That he can put together a killer business plan.  Where is that mind, that detail, that plan for America? When you go to his web site and look for specifics, he has blank pages for things like Social Security and Medicare.
 Has he not thought about them yet? Or does he not want to tell us?
I'd love it if he would give us a real, detailed blueprint for what he wants to do.  Then we could really look at him closely and make an informed decision.  But right now he's just a pig in a poke.